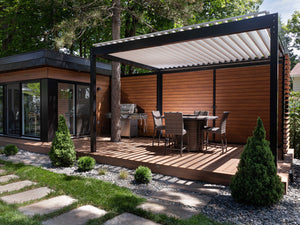 The only sale of the year.
Modern Louvered Pergolas & Durable Outdoor-Living Products
The entire line of Terra Summer products was designed with your comfort in mind. Our modern louvered pergolas provide an elegant and durable foundation for your outdoor living space. Our customizable outdoor products are made to align with the architecture of your property.
Free and Fast Shipping
Quick and reliable delivery all across USA and Canada. We strive to deliver your purchase with the best options, tracking information and handle every detail to give you a seamless experience.
10-Year Warranty
Our products have been put through an extensive testing process ensuring a superior quality product. This means you can rest assured you have invested in quality for years to come.
Best Value
Proudly made in North-America. We see value in durability. When considering alternative products on the market, factor the price of replacing them in the future. Products made of 100% aluminum have a longer life cycle.
DURA XL LOUVERED PERGOLA
Terra Summer's Dura XL Louvered Pergola makes elegance, functionality, size and outdoor living all come together in a big way. The Dura XL not only gives you year-round control over the elements, but more importantly, adds undisputed value to any outdoor living space with up to 291 square feet and it's impressive 10' ceiling height. Our Color Selector lets you match or mix frame and louver colors from any one of 12 contemporary hues.
Shop Now
Design Inspiration
With contemporary, modern designs, our custom-created products enhance the usable space of your outdoor area and become a welcoming extension of your home. Browse our Lookbook and explore our finest projects.
★★★★★

The Pergola was packed very well and arrived in perfect condition. The instructions along with the assembly video made it very easy to put together. I have not seen a better DIY kit out there that I would attach to my house!

Avner Goodman

Horsham, USA
★★★★★

The result is magnificent. We were impressed by the service, professionalism and impeccable quality of the product, and we would wholeheartedly recommend this company to anyone looking to improve their outdoor space.

Stephanie Dubreuil

QC, Canada
★★★★★

We commend the professionalism and expertise of the various people who helped us bring this project to life, as well as the support and service we continue to receive after the installation.

Louise Jolicoeur

QC, Canada
★★★★★

With this system in place, we can start patio season three weeks earlier and finish it three weeks later.

Alain Belzile

QC, Canada
★★★★★

This is a robust, elegant and high-quality system. The pergola features adjustable blades that can be oriented according to the movements of the sun. Even the rain is eliminated by discreet coverings. Thanks to our Terra Summer pergola, the holidays have never felt longer

Pierre Gaudet

QC, Canada